Through The Brilliant Brush, Benjamin Moore offers a range of paint samples so you can eliminate the stress of wrong choices, and instead—focus on the transformative power that a fresh coat of colour brings to your home. Choose the paint sampling option that works for you.
Display Chips: In Store & Readily Available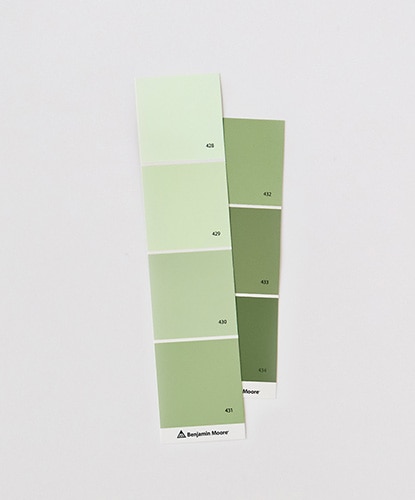 Available for free from The Brilliant Brush, Display Chips are how most homeowners get started on their colour search.
Tips for Using Display Chips
Pull and play Cut them, fold them, leave them on your walls…use Display Chips to narrow down which colour family you'll eventually choose.
Going darker? Lighter? Display Chips are great for seeing different colour values, as they are typically organized by gradations of colour.
Stack them up Layering and observing helps you compare nuances in warm vs. cool colours and undertones.
Graduate Once you narrow down a few favourites, move to Paint Colour Samples and/or Colour Swatches.
While Display Chips may be Benjamin Moore's smallest colour swatches, they remain a vital starting point for narrowing down colour.
Paint Colour Samples: Brush Them On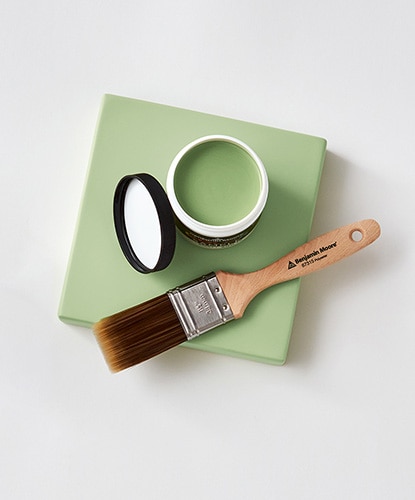 Benjamin Moore Paint Colour Samples contain actual Benjamin Moore premium interior paint in the colour of your choice. Details include:
Each 236 mL (8 oz.) plastic, screw-top jar covers approximately one 0.6 m x 0.6 m (2'x2′), two-coat area.
Sample paint is interior, eggshell finish.
Samples are available through The Brilliant Brush or online.
Tips for Using Benjamin Moore Paint Colour Samples
Brush out at least two coats. Two coats create the most accurate colour depiction.
Consider brushing directly on your wall, especially if your wall is white or a light neutral—the new colour won't compete against your existing one.
Consider brushing on a white foam core board, so you can move the colour around the room throughout the day to see how the colour appears in different lighting.
For exteriors, use the white foam core board approach, because sample paint is formulated for interior use only.
Take your time: It's important to observe your painted wall samples during different times of the day. Don't rush your decision!
Colour Swatches: Tape Them Up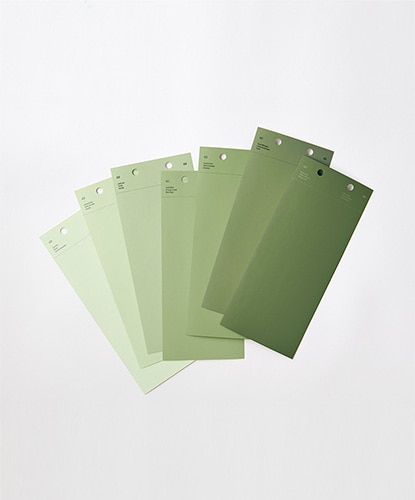 If you don't want to paint, a Colour Swatch is a great alternative to Paint Colour Samples. A quick and easy way to view paint colour, Colour Swatches are…
Paper samples that are larger than Display Chips.
10 cm x 20 cm (4" x 8") in size, with each swatch dedicated to one paint colour.
Available in an eggshell finish.
For purchase online or at The Brilliant Brush.
Tips for Using Colour Swatches
Use painter's tape to safely adhere the Colour Swatch to the wall.
Observe how colours appear in different lighting in both artificial and natural light sources.
Compare your colour choices to one another in different light sources as well.
Keep your Colour Swatches up for a while for a time-tested approach.